Standing Room Only (1961)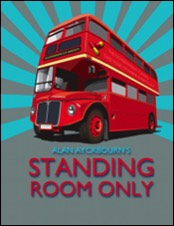 To navigate, use the links in the bar above or in the right hand column.


World Premiere:
13 July 1961

Venue:
Library Theatre, Scarborough

London Premiere:
12 June 1966

Venue:
British Council - London Overseas Student Centre


Play Number:
4

Published:
No

Other Media:
No


Short Synopsis:
Set in a future where the nation's roads have become permanently gridlocked, it follows a family's life in their home, a stranded double-decker bus, and how they deal with an illegal pregnancy.


Note:
Written under the pseudonym of Roland Allen.


Availability
Amateur:
Not available for production

Professional:
Not available for production


Standing Room Only
Quote

"Let's get this straight. Am I to understand that you went round and round the Government Multiple Store with your polythene basket till you saw somebody you liked the look of and then asked him to marry you. Am I right?"
All research and original material in Standing Room Only section of Alan Ayckbourn's Official Website is by Simon Murgatroyd M.A. and copyright of Haydonning Ltd. All other material is copyright of the named copyright holder. Please do not reproduce any material without permission of the copyright holder. For enquiries, email: archive@alanayckbourn.net